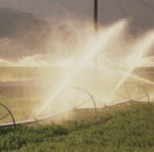 Measures spray angles in seconds
Suitable for measuring non-conical spray angles
Eliminates subjective measurement techniques
One time set up with minimal user training required
Characterizes most liquid and solid particulate sprays even at very high flow rates
Different sizes for sprays ranging from 1 inch to 10 inches
Quality audit of:
Fuel delivery nozzles for aeroengines
Automotive urea dosers
Paint nozzles and applicators
Agricultural nozzles used in various applications
Nebulizers, metered dose inhalers, and nasal sprays
Consumer aerosol dispensers for fragrances, cleaners, and insecticides
Industrial nozzles used in spray drying, washing, and scrubbing
Also used in windowed pressure chambers to obtain full patternation (spray pattern) information by rotating the nozzle a few times.
The AP series of optical patternator has 2 layers of laser sheets spaced 10 mm apart. There are two independent detectors analyzing the two cross sections of the spray as it intersects the two laser sheets. A comparison of the two cross sections reveals the spray angle or cone angle of the spray. The fast data acquisition rate of 10,000 Hz enables characterization of sub-millisecond sprays. When the system is used with opposing windows in a pressure chamber, the nozzle/injector can be rotated six times to obtain full patternation of the spray.
---
Accessories can be provided based on customer requirements.
All of En'Urga's products are custom-made. Please provide details in the Contact Form for any modifications of performance specifications, or any change in the physical configuration of the desired instrument. A description of your application is helpful.